Metadaten betrachten 4 – Ergebnis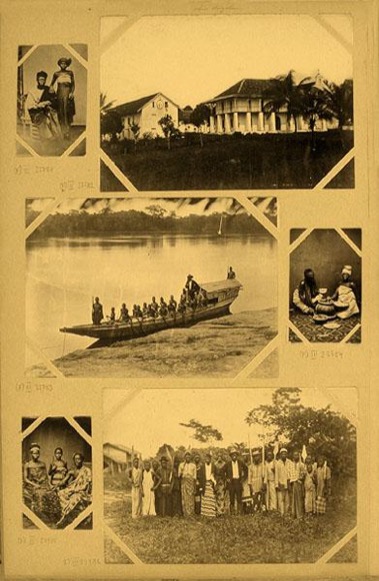 Wird der Link «Album page» links neben der Fotografie angeklickt, gelangt man zu einer Abbildung der gesamten Albumseite. Die Fotografie ist dort von fünf weiteren Fotografien umgeben. 
Mit der Möglichkeit, ganze Seiten aufzurufen, bleiben die einzelnen Fotografien auch im digitalen Archiv mit den Fotografien verknüpft, die sie umgeben. Die Anordnung der Fotografien und die Bildunterschriften können weitere wichtige Hinweise zum Sammlungskontext geben.
Übrigens: Weitere Informationen zu den beiden Carl Passavant-Alben gibt es unter der «Introduction», die neben jeder Fotografie angeklickt werden kann.
Wie in diesen kurzen Aufgaben deutlich wurde, sind die Metadaten nicht nur sehr hilfreich beim Recherchieren im digitalen Fotoarchiv, sondern liefern auch wichtige Informationen über eine Fotografie und ihre Verwendungsgeschichte.
Informationen zu Carl Passavant und seinen Reisen bietet das Buch: Schneider, Jürg/Röschenthaler, Ute/Gardi, Bernhard (Hrsg.): Fotofieber, Bilder aus West- und Zentralafrika. Die Reisen von Carl Passavant 1883-1883, Basel 2005.
Folgender Artikel beinhaltet weitere Informationen zum afrikanischen Fotografen Francis W. Joaque: Schneider, Jürg: The topography of the Early History of African Photography, in: History of Photography, Vol. 34, No. 2, 2010, S. 134-146.